2020 JUKE JOINT FESTIVAL & RELATED EVENTS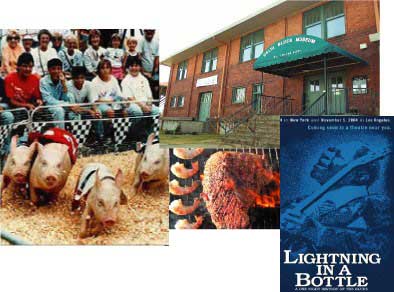 This year's 17th annual festival is dedicated to all of the late, great Delta blues players, juke joint owners and supporters who have passed away during the past year. "Thanks for helping to keep blues alive." RIP.
Juke Joint Festival is "half blues festival, half small-town fair and all about the Delta." It celebrates our past and living history by presenting over 100 blues acts — including many Mississippi and Southern greats in their 60s, 70s, 80s or even 90s! This is the real-deal Mississippi blues festival that you've read about in the New York Times and heard about on Sirius-XM Radio. It is like no other event in the world. (Think we're exaggerating? What other fest has blues veterans, juke joints, monkeys riding dogs, racing pigs and visitors from all around the globe?)
During the daytime on Saturday, April 13, 2019, you can expect 13 intimate stages of authentic blues and roots music.
At night, you can check out all of our surviving juke joints and blues clubs as well as our new downtown restaurants and venues — over 20 nighttime venue stages in all. Events that day kick off at 8am with our 5K/8K with most of our daytime music stages and street vendors operating between 10am and 6pm. Our nighttime venues are slightly staggered but basically start around 7 pm and end as late as 1 am. Daytime is free; nighttime is a low-cost wristband (pre-sale goes on sale January 1st).
While Saturday is the main event, definitely plan to come in on Thursday to enjoy our free Juke Joint Festival Kickoff event at Delta Cinema (5pm) and Related Events at night. Then, Friday, check out our educational and musical happenings by day — including a 6pm Clarksdale-edition of the live Thacker Mountain Radio show at the New Roxy featuring local blues acts and more. Clarksdale already has live blues 7 nights a week, of course, but during festival time it is especially off the hook!
Sunday, we cap off the weekend with a series of related events around town — including the free Cat Head Mini Blues Fest, Grounds Zero Blues Brunch, Red's Juke Joint Jam and much more. It's no wonder that our visiting blues fans (from as many as 28 foreign countries and 46 U.S. states) usually stay in Clarksdale from Thursday through Sunday nights for Juke Joint Festival.
Can't make it this year? Plan to attend April 18th weekend in 2020, y'all!
Help our Festival continue to grow!
Donate via PayPal:
"CLARKSDALE… #1 AMERICAN MUSIC CITY THAT'S NOT NASHVILLE" (Fodor's Travel)
Historic Clarksdale, Mississippi, is less than 90 minutes south of the Memphis International Airport and was once home to such blues greats as Son House, John Lee Hooker, Junior Parker, Ike Turner, Eddie Boyd, Sam Cooke, Muddy Waters, Pinetop Perkins, Earl Hooker, Lil Green, Big Jack Johnson and many many others. It's the land of the proverbial Crossroads! Today, local blues favorites include blues players with such colorful stage names as Super Chikan, Kingfish, Big A and Watermelon Slim.
Clarksdale has been undergoing a major revival in recent years as a result of blues-based tourism and downtown revitalization efforts, and Juke Joint Festival has been part of what some now call the "Clarksdale Comeback" since day one. Since Juke Joint Festival started, we've gained over 30 overnight apartments downtown (plus a new Hampton Inn and Traveler's Hotel; and the Shack Up Inn has grown from 6 shacks to sleeping 125 heads!), a dozen other new music festivals, live blues 365 nights a year, a new museum, multiple history markers, and new residents from all around the US and the world.
Come for a visit, but beware. Many former "tourists" now live here.
CLARKSDALE DOWNTOWN DEVELOPMENT ASSOCIATION
The Clarksdale Downtown Development Association is the 501c3 nonprofit that puts on the Juke Joint Festival (April) as well as the Clarksdale Film Festival (last weekend in January). CDDA wishes to thank all of the amazing sponsors, volunteers, musicians, artists and attendees that make our events possible. If you'd like to become a sponsor or make a donation to either festival, please just let us know.
PLEASE RESPECT OUR REGISTERED TRADEMARKS
The "Juke Joint Festival®" name and logo are registered trademarks and cannot be used by outside parties without the express written consent of the Clarksdale Downtown Development Association/Juke Joint Festival. All rights reserved. Third parties may not create unauthorized "Juke Joint Festival®" products (e.g. T-shirts and apparel) or advertising (e.g. event banners and print ads). Please be cool, y'all. We've worked really hard to build this brand. Thanks, and enjoy the festival.